Toronto International Airport
Arrival at Walt Disney World Ferry to the Magic Kingdom.
DETAILS TO BE DETERMINED (TBD) STAY TUNED!!!
Organizations/Agencies ensure children arrive at the Air Canada Hangar. Please check in with the Inforamtion Desk to obtain your group number. You will find your Group Leader and a volunteer helper at the table with your group number where everyone will receive their t-shirts/waist fanny packs and hats. The hats are to be worn at ALL times. For security reasons identification photos will be taken (this must be done as soon as possible to ensure the children can enjoy the pre-flight entertainment).
Meet and Greet
If you live in Toronto (or close to the city) you will meet your group leader and other kids going on the flight about 2 weeks before flight day. You will see a presentation about how your day will go, what to bring, and what to expect! The "Meet and Greet" is a good chance to ask questions, but if you have questions in advance you can also ask your contact person.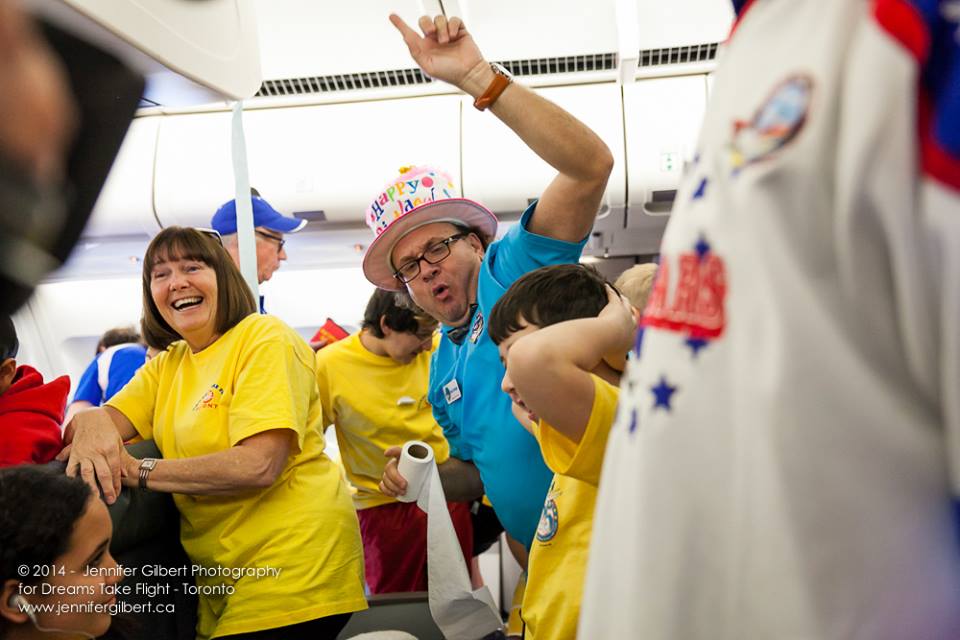 What to Bring
If you take medication, please come with a 2 or 3 day supply.
Adults coming on the flight must have a passport.
All children should be dressed for warm weather in Orlando (the black shorts provided at the orientation meeting and runners). The Group Leader will provide additional clothing, caps, fanny packs, water bottles, and sunscreen. You are able to leave a backpack on the plane for the day in case you would like to leave a fleece for arrival and departure.
All adults should come dressed in their Dreams Take Flight shirt and capris, pants or shorts; preferably black, red or white.
Arrival & Parking
It is important that you are at Air Canada Hangar on time (05:00 am), because there are many things that have to be done before we leave for Walt Disney World.
Accommodations in Toronto (for out of town children only) – Please speak with your Dreams contact for more information. Out of town children and escorts will leave by pre-arranged bus to the Hangar.
Schedule at the Toronto Airport
Upon arrival at the Hangar, please check-in at the children or adult check-in stations.
If you have medication please proceed to the Medical Desk. The medical team will be there to take the medication and ensure that the procedures for use of the drugs are clearly understood by the medical team.
Proceed to your Group where you will meet your group and Group Leader.
At Walt Disney World!
Each group will go through Magic Kingdom at their own pace. Food, drinks, and lots of water will be provided. Each child will select a souvenir from Walt Disney World. Please do not send money with your child.
Your group will stay together at all times during the day. There will be a group leader and other adult chaperones – depending on the needs of the group. You will have enough time to go on several rides and get many character autographs. Think ahead about what your most favorite things to do at Walt Disney World will be as your group leader will want to know – and therefore plan a day for all to enjoy.
Your group will meet at the bottom (beginning) of Main Street at 8:30 pm to begin departure from Walt Disney World.
Group leaders will have cameras and there will also be photographers at Walt Disney World to take group and "action" photos. Your group leader will create a photo album for your memories.
Back in Toronto
Parents can call Air Canada, 1.888.247.2262 for live flight arrival time or check online with Air Canada.
Pictures
Check out our Facebook page 'Dreams Take Flight Toronto' flight day for LIVE updates!
This is a No Smoking Day – absolutely no tobacco products allowed all day!
DETAILS TO BE DETERMINED (TBD) STAY TUNED!!!
DETAILS TO BE DETERMINED (TBD) STAY TUNED!!!
DETAILS TO BE DETERMINED (TBD) STAY TUNED!!!
DETAILS TO BE DETERMINED (TBD) STAY TUNED!!!
DETAILS TO BE DETERMINED (TBD) STAY TUNED!!!
DETAILS TO BE DETERMINED (TBD) STAY TUNED!!!
DETAILS TO BE DETERMINED (TBD) STAY TUNED!!!
DETAILS TO BE DETERMINED (TBD) STAY TUNED!!!
DETAILS TO BE DETERMINED (TBD) STAY TUNED!!!
Busses arrive at MCO for Flight departure for Toronto. Dinner is served on the flight home.
Arrival in Toronto. When the teams get back into the terminal hangar, families/guardian will be waiting for them in Air Canada Hangar designated wait area. Special gifts for the kids from Bentley and Crocs.